Pop-up Recurring
Our pop-up recurring features allow you to ask donors to make a recurring donation after they've made a one-time contribution. Their one-time contribution will already have been recorded, so you won't lose out on any donations.
Smart Options, which suggests multiple monthly donation amounts smaller than the one-time donation your supporters just gave, plus the option to set their own monthly amount, is turned on by default for all contribution forms because of its high conversion rate.
To edit or disable pop-up recurring tools, locate your contribution form in the Contribution Forms page in your Dashboard. Click on the "Edit" button to open your form and the form editor!
Next, click the "Recurring settings" tab in the form editor. This will allow you to see the pop-up recurring options.
Please note: If you enable Smart Boost in the "Post-donation upsells" tab of the form editor, the recurring pop-up will be disabled, even if you have one of our recurring pop-up tools selected in the "Recurring settings" tab.
First, you can choose which type of recurring pop-up you want donors to see after they give. You can find all of the recurring pop-up options in the "Recurring donations" dropdown menu at the top of the "Recurring settings" tab. The "Unlimited" option will prompt donors to give a monthly donation for an unlimited duration which they can cancel at any time. The "Specified duration" option will allow donors to choose how many months their donation will recur (but they can still cancel their monthly donation at any point).
This article will explain these first two options – check out our article on Smart Recurring if you would like learn more about Smart Options, the default pop-up, and our other data-driven tools.
After you choose the "Unlimited" or "Specified duration" recurring pop-up, you can enter a custom amount into the "Pop-up recurring ask threshold" box. Supporters who give a one-time donation smaller than this amount will see a pop-up box on their screen asking them to make their contribution recurring.
You probably don't want to ask a $1,000 donor to make their donation a recurring donation. But you might want to ask a $5 or $25 donor to convert to a monthly recurring gift.
If you want to turn the pop-up ask off for everyone, select "Disabled" in the "Monthly recurring donations" dropdown menu.
The "Pop-up recurring title" is an opportunity to add a short, catchy headline to your pop-up recurring ask, and the "Pop-up recurring ask" is custom text that will appear on the pop-up. Try to remind your donors why a continued investment in your campaign or organization is important to your long-term goals. You'll want to keep this blurb as short as possible, to make sure it's not overwhelming for your mobile donors.
Once you've configured your pop-up settings, don't forget to click the green "Publish" button to save your changes. Then click on "Show pop-up preview" at the bottom of the "Recurring settings" tab to see what your pop-up ask will look like.
Here's what it will look like with the default pop-up language: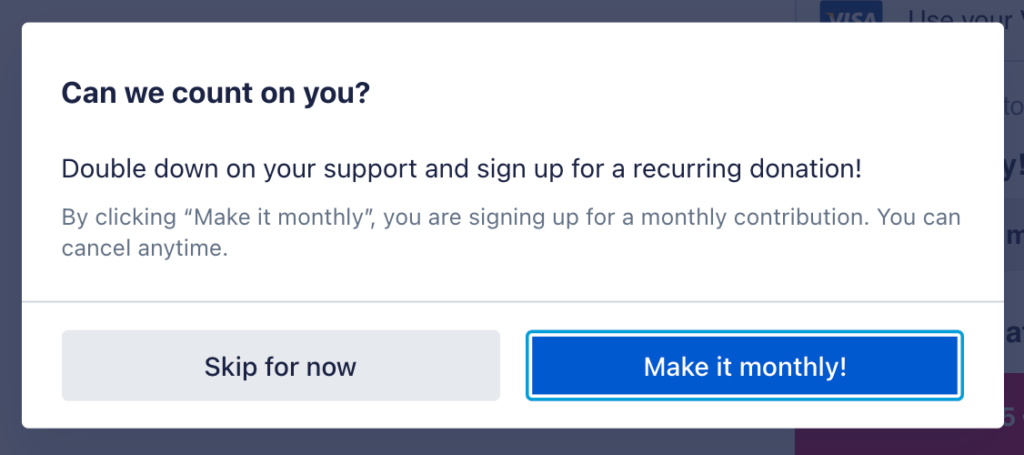 If you choose to translate your form's standard ActBlue-provided text into Spanish, which we explain how to do here, the default language in the recurring pop-up will also be translated into Spanish.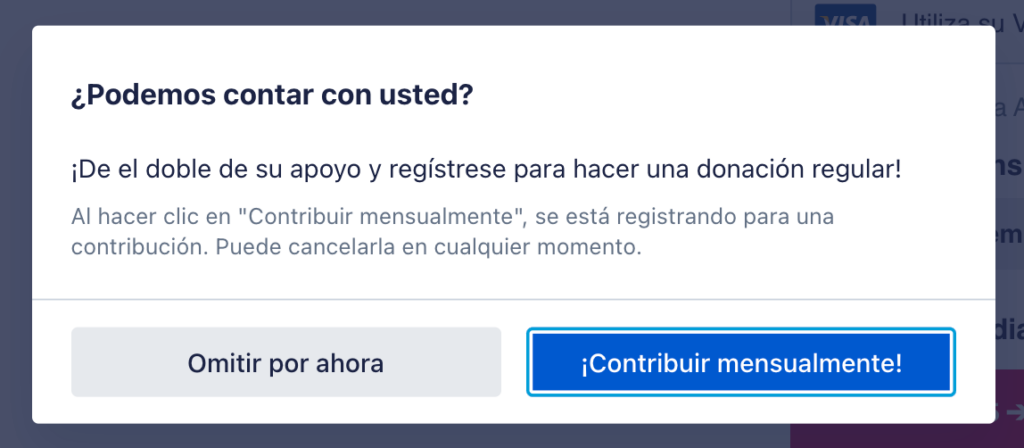 If you choose to customize the title and ask, these will not be translated. The Spanish language option only translates ActBlue-provided text on the form and recurring pop-up.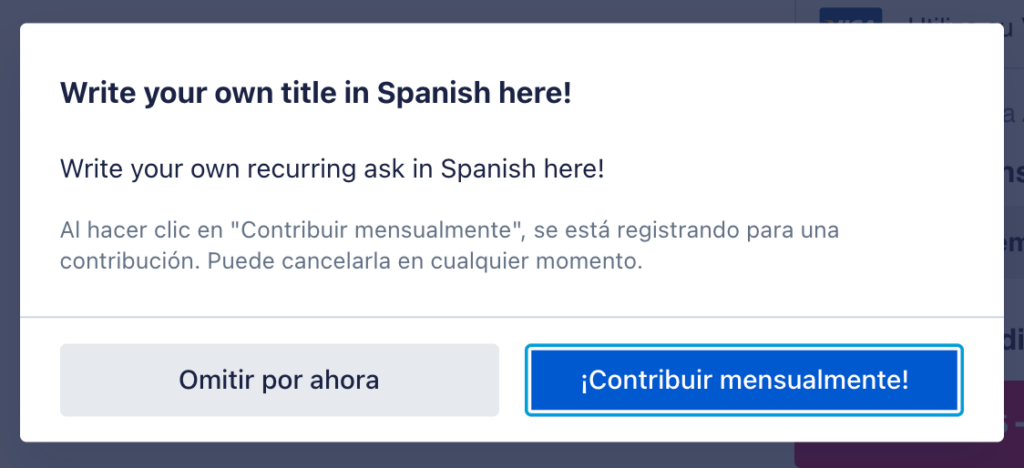 When a supporter presses the "Donate" button on a contribution form, we'll initiate a charge for the one-time donation. If they choose to "Make it monthly" on the pop-up, we convert their donation to monthly recurring. Supporters always have the option to skip the monthly donation. If they hit "Skip for now" or do nothing (close the page, etc.) the donor will only see the one charge they initiated on their credit card statement.
You can also customize your pop-up recurring box, which we highly recommend. By inserting an image or some customized HTML, you can prompt your donors by showing them something that will make them excited to become a recurring donor. When picking images to use in your fundraising, keep image vetting and consent best practices in mind.
Here's an example: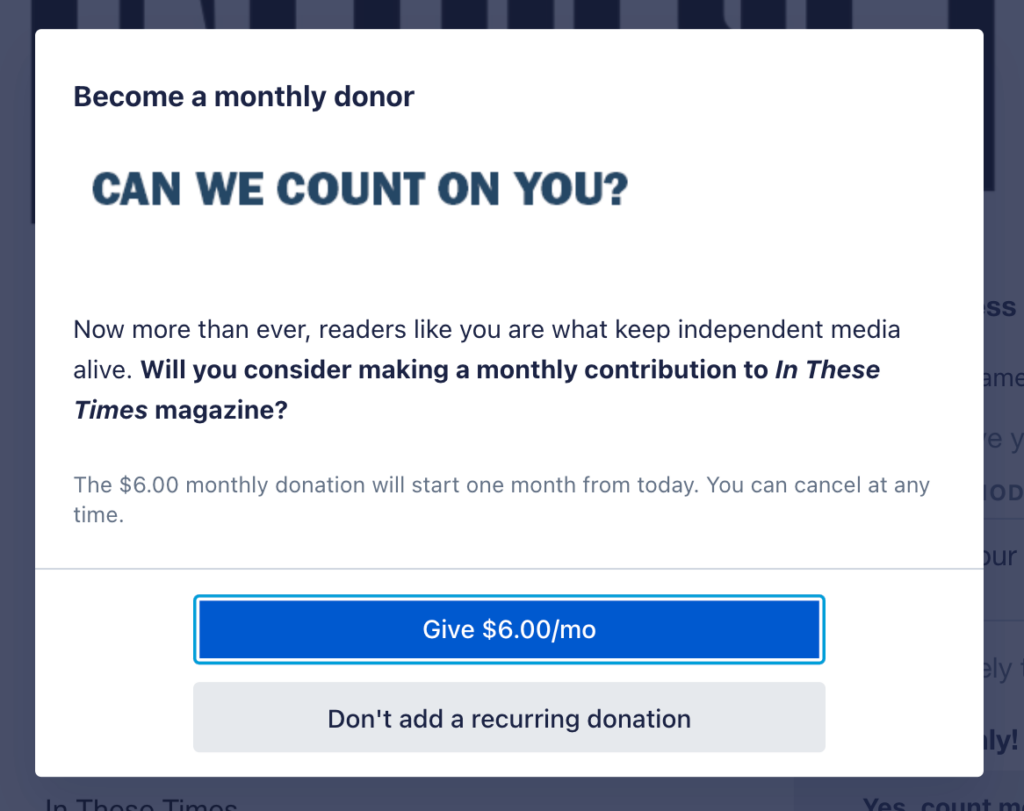 Customizing a pop-up box has tested well for a number of organizations, and we encourage you to try testing some customizations on your own forms.
Once you've finished customizing your pop-up, make sure to click on the green "Publish" button at the top of the form editor to save your edits.
Your campaign or organization can see who made a recurring contribution in the detailed contribution list and report of all contributions for each contribution form. You can find these tools by clicking the "Stats" button in the form navigation bar (form navbar) when previewing your form. 
On your form's Statistics page, click the "Additional tools" dropdown to find the list of detailed contributions or download a report of all contributions.
You can also see who made a recurring donation by searching for a specific contribution in the Contributions Search tab in your Dashboard toolbar.
You'll see a note that the contribution will recur each month, along with the one-time contribution amount.
Now you can use the pop-up recurring feature to build a large base of recurring donations!
In the "Recurring settings" tab, you can also write a custom, static recurring pitch for your contribution form or offer a free gift to supporters who choose to make a monthly donation. You can learn more about our full set of recurring tools here.
---
Additional Reading