Social Share
In this article:
---
After donors finish a contribution, we give them an option to share that they donated on social media. This is a great way for them to share their passion with their social networks and organize on your behalf because their posts will include the link to your contribution form! And with ActBlue's tools, it's easy to customize what people will see on Facebook and Twitter when someone posts your contribution form link — you can even create reusable and default social share settings to save you time and effort in the future!
---
Why Are Social Shares Important?
Here's an example of customized social share settings on Twitter:
This is what your social share will look like on Twitter if you have no customization:
Both examples get the important information across, but custom settings can make a bigger impact. When choosing images to use in your fundraising, keep image vetting and consent best practices and image quality in mind.
If you share a contribution form link via text message, depending on the user's device and settings, your social share image and text may also display in the text message. The social share card will appear when an iPhone user is sending a link to another iPhone user, when an Android user is sending a link to another Android user, or when an Android user is sending a link to an iPhone user. When an iPhone user sends a link to an Android user, the social share card will typically not appear for the iPhone user, but will for the Android user receiving the link. Here is an example of a link texted from an iPhone to another iPhone: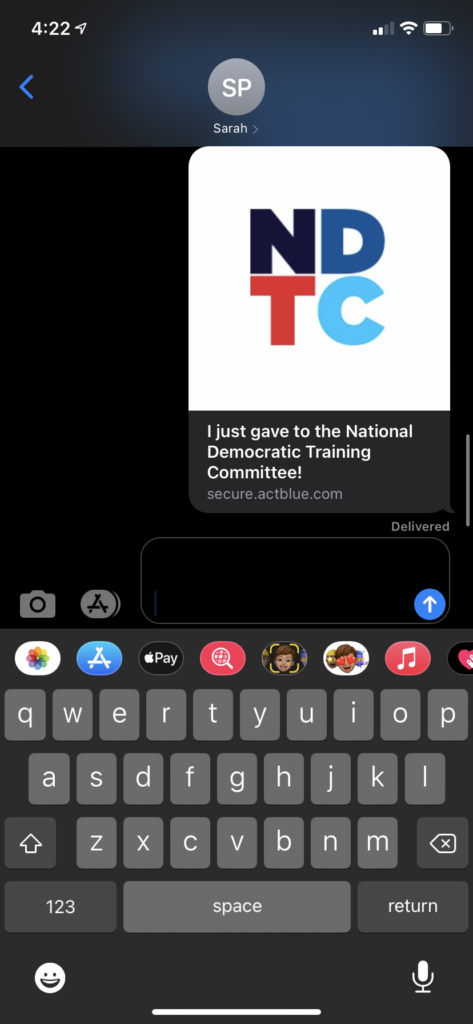 Please note that if you send a fundraising link in the middle of a text message, the social share card will not appear.
---
Customizing Social Share Settings
To set up social share settings for a particular contribution form, find the form in the Contribution Forms tab of your Dashboard, open its form editor, and go to the "Social share and promote" tab. 
Here you can add a title, description, and image for Facebook and Twitter posts, as well as custom text for tweets!
After customizing your text and uploading an image, click "Preview" to see what your text and image will look like when shared on Facebook and Twitter.
If you upload an image and decide you want to change it, click the grey minus button to remove it.
If you would like to turn search engine indexing on, you can do so from this tab. Simply switch the toggle from off to on to allow search engines to look at your form and use its live content to update what information they show to people who search for you. Turning the toggle on will also display fundraising totals on ActBlue hub pages. Turning "Promote my form" on and off does not affect ad tracking. This toggle is turned off by default.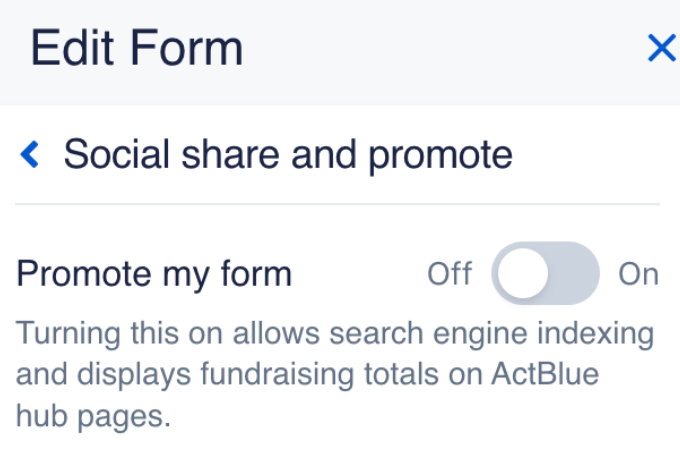 Once you're happy with your social share settings, click the green "Publish" button at the top of the form editor to make your changes live!
---
Creating Reusable and Default Social Share Settings
If you want your social share settings to be reusable, simply check the "Make settings reusable" box at the bottom of the form editor and give them a name before publishing your changes.
The next time you go to the "Social share and promote" tab for one of your contribution forms, you will have an "Applied reusable settings" dropdown where you can easily select a reusable setting to use!
If you do not name your social share settings before publishing, they will be custom to that form but not saved as reusable (you will have to customize settings again on other forms). However, if you duplicate a form with custom social share settings, those settings will be duplicated on the new form.
If needed, you can edit reusable settings in the "Social share and promote" tab. Just select the setting you want to edit from the dropdown and click the gray "Edit settings" button.
You'll be able to edit and preview the settings just like when you created them, but please note that when you're done editing reusable settings, clicking the "Save" button will make your changes live across all forms currently using those settings. Unlike making other changes in the form editor, you will not need to click the "Publish" button for changes to your reusable settings to go live.
Once you've clicked "Save," you'll see a notification indicating that all forms using those settings have been updated.
In addition to creating reusable social share settings, you can also designate default social share settings for your campaign or organization. To set a default, select the reusable setting you want from the dropdown and check the "Set as default" box before publishing your changes.
Once you've selected "Set as default," these social share settings will automatically apply to any new form you create (unless you duplicate a form that uses different custom settings). This means you won't have to worry about setting up social share when you create a new form!
If at any time you select a different reusable setting to be your default, it will only be applied to brand-new forms, not pre-existing forms that use an old default or new duplicates of forms with different settings.
You can quickly remove reusable social share settings from a contribution form by selecting "[None]" from the "Applied reusable settings" dropdown and then clicking the green "Publish" button.
Your social share settings will revert back to the basic settings we provide for all groups:
Lastly, please note that you may need to wait a few minutes after publishing your changes before Facebook and Twitter will cache your image so your social share settings will look like the preview in the form editor. To see if your image is ready, visit the debugging links we've included in the information buttons next to "Facebook share" and "Twitter share" in the "Social share" tab. You will need to be logged in on both sites to use their debugging tools.
Social share is a powerful way to expand your reach, fill the social networks of your supporters with your memorable brand, and raise more money. We highly encourage you to take a minute to customize it!
In addition to customizing your social share, make sure that you add your social media handles to your ActBlue account so donors can follow you right from the search results in their ActBlue Express account. This gives your supporters another entry point to joining your movement and grows your digital presence! 

---
Additional Reading