Downloading Your Data for Compliance
ActBlue user roles and permissions dictate what users can do on our platform. If the tools or features in this article are unavailable to you, speak to your entity Admin first about updating your permissions.
In this article:
---
In order for your campaign to be compliant with federal, state, and local laws, your team may need to file reports with government agencies that provide information about your donors. We're happy to walk you through where this data lives in your ActBlue Dashboard, but this is not legal advice.
If you have specific questions about filing reports, you should consult with your legal counsel and compliance team! You can direct questions about reporting to the government agency that oversees your activity and ask how to report contributions that you've received from ActBlue. This support article explains why we're considered a PAC and how we function as a conduit for individual political contributions made through our platform.
---
The Disbursements module
The Disbursements module can be found on the Overview page of your Dashboard and provides a quick summary of your most recent disbursement, as well as your upcoming disbursement. You can click on the check or wire number of your most recent disbursement for a detailed breakdown and to download the donor data. Or click "View your disbursement history" to be brought to the Reporting center, where you will find all of your reporting data.
---
Your Reporting center
You can find the data you will want to report in the Reporting center. Find the "Reporting" tab under "Tools" in the Dashboard menu.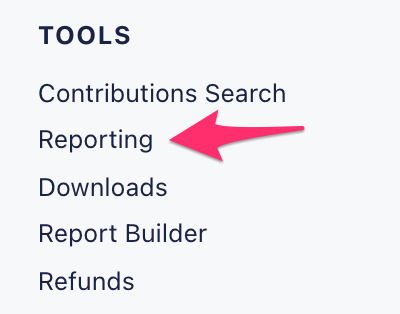 If you're new to reporting your ActBlue data, read our brief instructions. You'll find them linked directly under the "Disbursements" tab.
In the "Disbursements" tab in the Reporting center, you can download a CSV of all pending contributions that have not yet been disbursed. CSVs are a popular and universal document format that should work with all types of donor tracking software. If you want to see this information on a webpage instead of in a CSV, click "Details."
You can also download CSVs that list the contributions from each of your disbursed checks. If you want to see more information about a check, including the total money refunded and the processing fee, click "Details." If you use a merchant account, you will see your donations grouped by month.
---
Downloads
If you are interested in downloading more contribution data, go to the "Downloads" tab in the Dashboard menu under "Tools."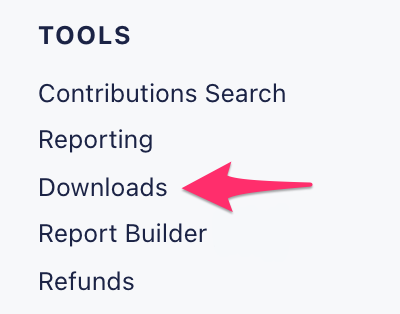 You can download other reports here! You can customize the timeline of most of these reports, for either compliance or fundraising strategy. If you're downloading a report, and it takes significant time to load, we can send the report to your email.
If you've recently requested a report, it will also appear at the bottom of this page.
---
Report Builder
You can also download reports with information you may need to report in your Dashboard's "Report Builder" tab.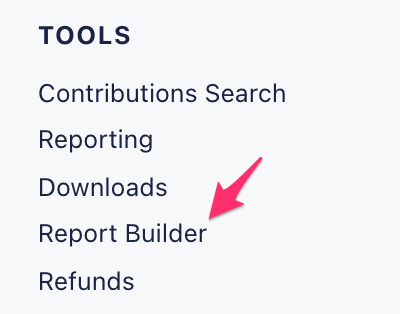 The report builder allows you to build and download fully customizable data reports, with adjustable date ranges and only the columns you want to include! The tool also gives you the option to save templates for reports you want to download regularly. For step-by-step instructions on using the report builder, click here.
---
Contribution form data
You can download contribution data for a particular contribution form outside of the "Reporting," "Downloads," and "Report Builder" tabs. When looking at a contribution form, you will see a "Stats" tab in the form navigation bar (form navbar).
From the Stats page, you can download all contributions by clicking the blue "Export all contributions" in the top right corner. 
---
NGP data
Are you working for a federal campaign that uses NGP for your compliance software? Whenever you see a CSV button, you will also have an option to download NGP data.
---
Additionally, ActBlue's CSV API lets users automate their processes and download donor data via CSVs without having to log in to the entity Dashboard every time. To access the CSV API for the first time, navigate to the "Admin" section of your Dashboard toolbar and select the API Credentials tab. To get step-by-step instructions for using the CSV API, you can view our technical documentation here.
---
The amount of support that the ActBlue Customer Service Team can provide is dependent on the permissions that you have. Check with your entity Admin about your assigned role.
If you have any questions, please contact our support team using the email address you use to access your ActBlue account.
---
Additional Reading