Report Builder
In this article:
---
The Report Builder page in your Dashboard allows you to build and download fully customizable CSVs of your fundraising data. CSVs are a popular and universal document format that work with all types of CRMs, reporting tools, and spreadsheet applications, including Excel and Numbers. You can even save templates for CSVs that you want to download regularly with the report builder! To get started, navigate to your group's Dashboard and select the "Report Builder" under "Tools" in your Dashboard toolbar.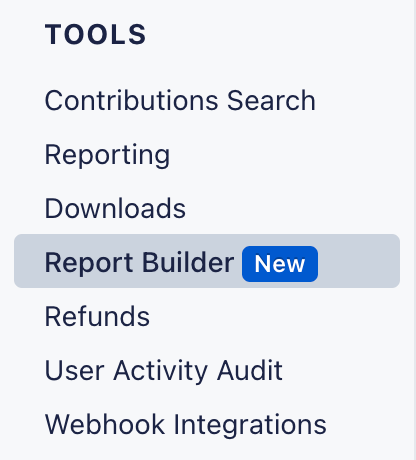 ---
Building and Downloading a New Report
On the Report Builder page, you will see your saved report templates, as well as your recently generated reports. To build a new report, click "Build New Report" at the top right corner of the page.

Clicking this button will bring you to the Build New Report page. First, click the date range you would like to collect data from. Please note: For every report that you download, whether it be from a previous template or a new report altogether, you will need to select a date range. So pick the date range you want for this particular download!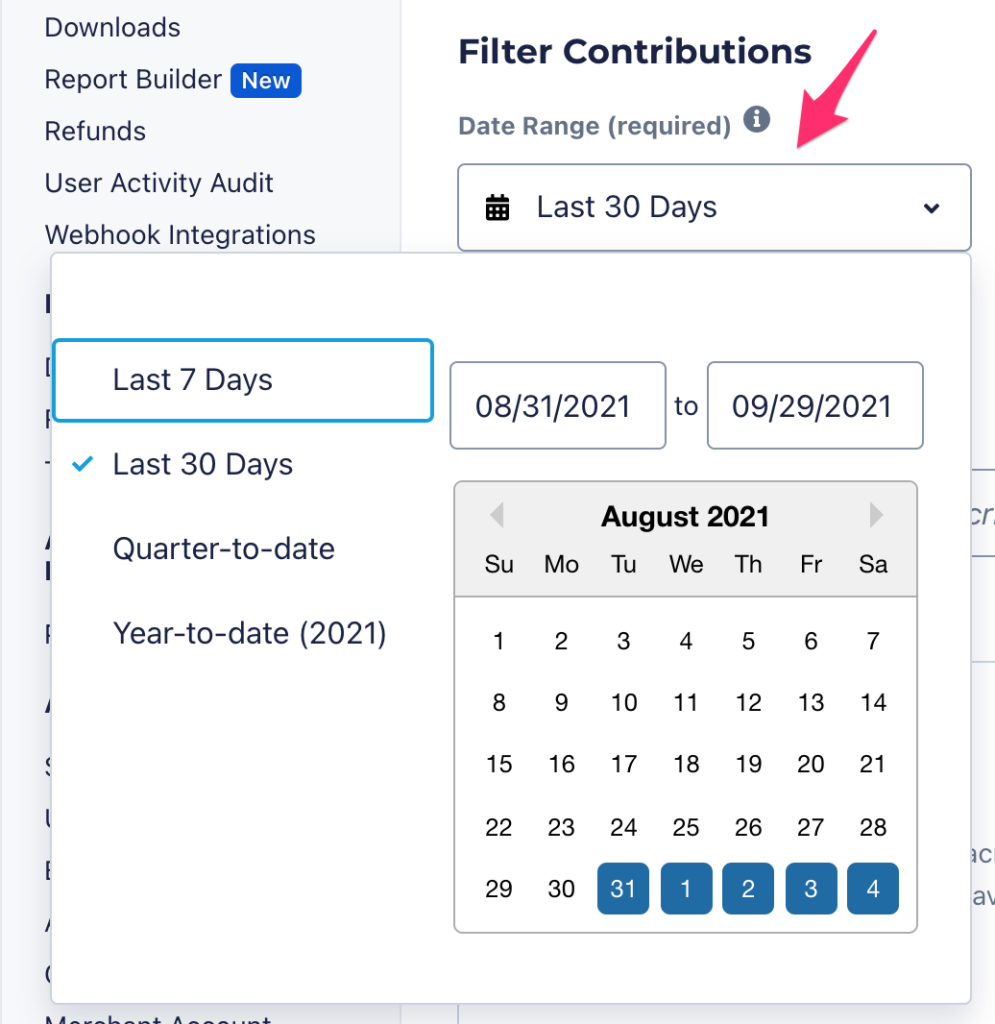 Second, select whether you would like to implement other filters on your report. You can pull only refunded or non-refunded contributions into your report using the "Refund Status" tab.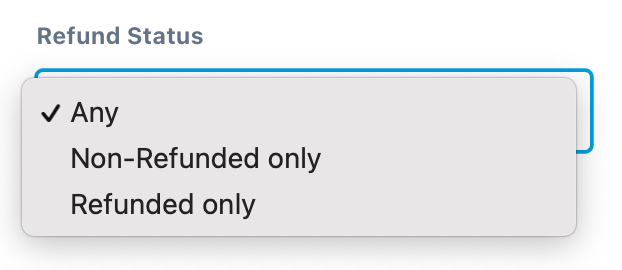 You can also pull only dispersed or undispersed contributions into your report using the "Disbursement Status" tab.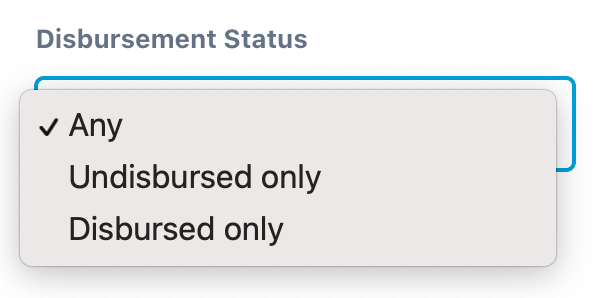 You can filter out recurring contributions by selecting "First-time donor only."
Finally, you can pull data only from a specific form or forms by searching the name or URL slug in the "Forms" field and selecting the form you want from the dropdown. If you don't select a form or forms to pull data from, your report will include data from all of your group's forms.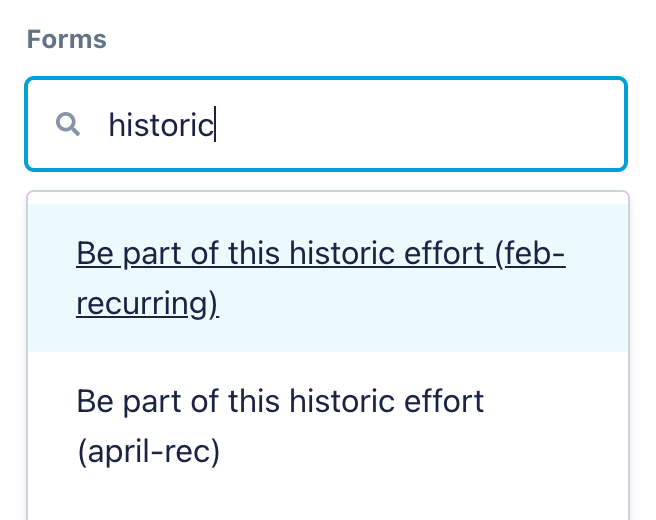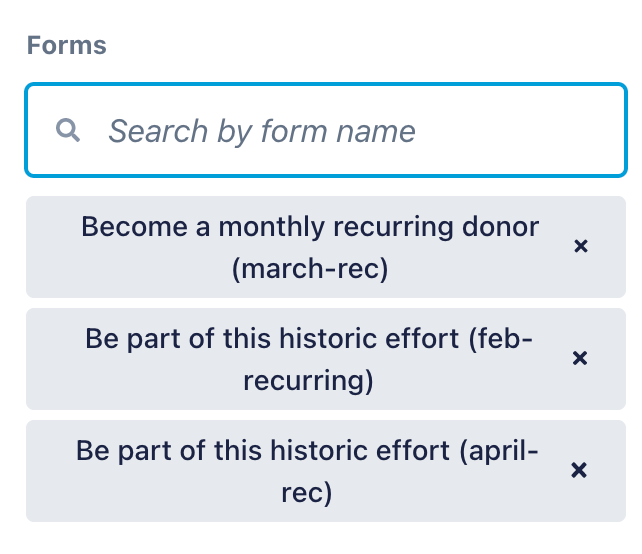 Third, choose which columns you would like to include in your report. There are around 60 columns, organized in the categories "Contribution," "Contribution Form," "Donor," "Recipient," "Recurring," "Payment," and "Feature Usage." If you know what column you're looking for, you can search by name or description at the top of the "Choose Columns" section.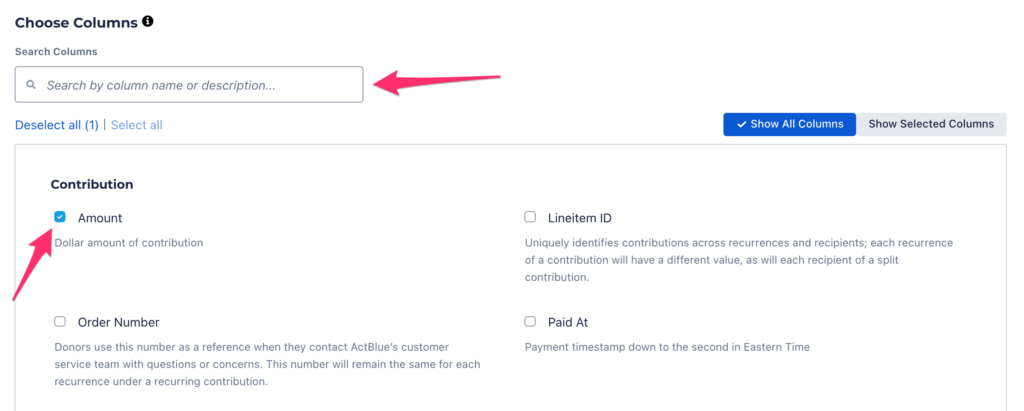 You can also select all of the columns in a certain category by clicking "Select all in category."
Select all of the columns you want to get the information you need in your report. For more information on the column options, check out the data dictionary prepared by our experts!
Finally, click "Generate."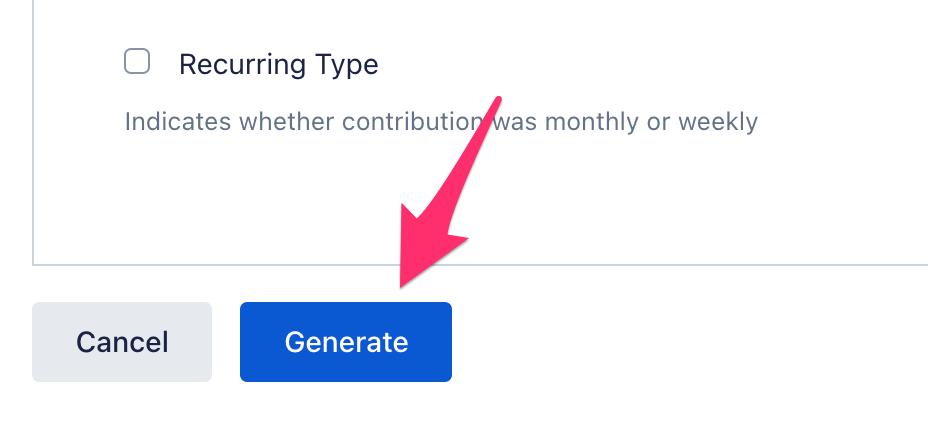 Before you are brought back to the Report Builder page, a pop-up will ask if you would like to save your column and filter selections as a template. If you choose to do so, you can download that same report later with any date range!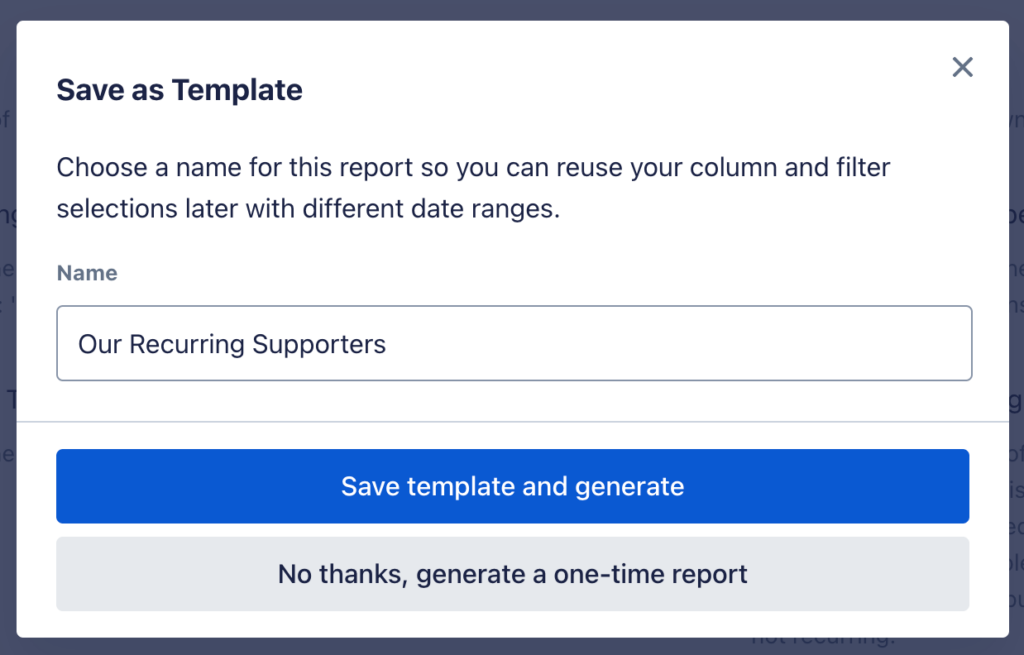 Once you click either "Save template and generate" or "No thanks, generate a one-time report," you will be brought back to the Report Builder page. You will see a banner at the top letting you know that your report is being generated. Click "Email me when ready" if you're building a large file and would like to receive an email when your report is ready.

When your report is ready to download, you will find your report at the top of the "Recently Generated Reports" section with a "Download" button on the far right. Click "Download" to download a CSV file with the report you built to your computer.
---
Using Report Templates
Once you've saved a report template, you will find it under "Saved Report Templates" on the Report Builder page. You can see the name of the template, the columns and filters it includes, and which admin created the template. To generate a report based on the template, choose a date range and click "Export."
Then, choose "Google Sheets" or "CSV," depending on what format you want your report to be.
Once the report is ready to download, it will be available under "Recently Generated Reports." Once you generate the report, it will be available to download for 24 hours.
---
Additional Reading