Reporting & Compliance
In order to be compliant with federal, state, and local laws, your team will need to file reports that provide information about your donors. ActBlue makes that process really simple — the contribution data you'll need to complete accurate compliance reports can be found in the "Reporting," "Downloads" and "Report Builder" tabs of your Dashboard.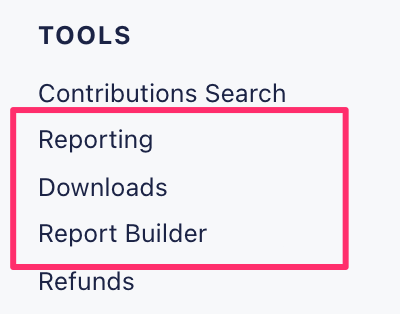 Before you get started, you'll want to read through our compliance guidelines. We're happy to offer helpful information, but this is not legal advice, so you should consult with your counsel and compliance team when filing reports. You can find our guidelines in the "Reporting" tab, as shown below.
After you've read the guidelines, you can download a CSV for a specific check or disbursement of funds in the "Disbursements" tab. Just find the check you're looking for and click the CSV button at the right of that row.
You can also head to the "Downloads" tab of your Dashboard, where you'll be able to export more of your data. You can download contribution data over a specific time frame or all-time. You can download in CSV format, which should work with all types of donor tracking software, including Excel and Numbers, or export as a Google Sheet.
If you need more specific contribution information for compliance and don't have the capacity to sort through a large file, we recommend heading to the "Report Builder" tab in your Dashboard. The report builder allows you to select only the columns you want in your report, as well as giving you the option to save templates for reports you want to download regularly! For more information on how to use the report builder, click here.
If you're going to upload the CSV into your state's reporting software and you need it to be in a different format, you can easily convert a CSV file into the format you need.
You can also download data for a specific contribution form by choosing the form and navigating to its Statistics page.
The Statistics page will show you a table of the contributions received on the form, broken down by refcode. Below the table, you will see an option to click "Additional tools." Open the menu, and you will be able to download CSVs with data for that form. You can also view this data on a webpage by clicking "View detailed contribution list."
NGP VAN recommends that ActBlue users who use their compliance software download our standard CSVs, which you can do by clicking the "CSV" button.
If you use an older version of NGP, you can still download NGP data by clicking the "Data" or "Fundraisers" buttons next to "Legacy NGP."
Additionally, ActBlue's CSV API lets users automate their processes and download donor data via CSVs without having to log in to the entity Dashboard every time. To access the CSV API for the first time, navigate to the "Admin" section of your Dashboard toolbar and select the API Credentials tab. To get step-by-step instructions for using the CSV API, you can view our technical documentation here.
---
Additional Reading