How do I donate from my ActBlue Express account?
In this article:
Donating to a new group
ActBlue Express users can easily find campaigns and organizations to give to on ActBlue through the search function in ActBlue Express accounts. After logging into your account at secure.actblue.com/signin, the search bar is at the top left of your screen:
You can also reach the search page by selecting "Browse" from the left navigation bar.
You can search for a specific candidate or organization by name or use our filters to search by upcoming elections, state or territory, the office a candidate is running for, committee type, fund type (like nominee funds and draft funds), or nonprofit issue area.
Once you find the group you would like to give to, you can donate right from the search results! 
You can also create your own contribution form to fundraise for the group on the search results page. Click the button with the three dots and select "Create a community form." Check out our guide to community forms at this link!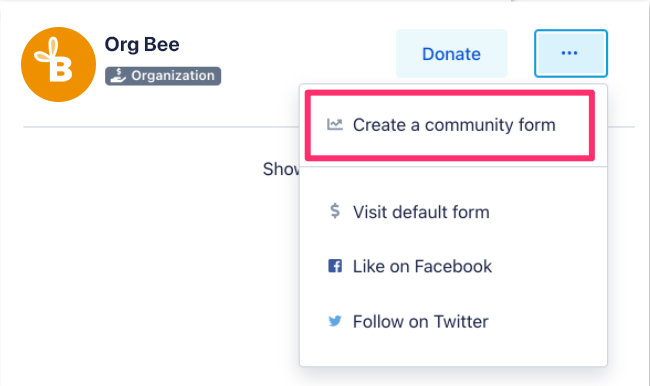 In addition to donating and creating a community form right from the search results, you can also follow a group on social media by clicking the links in the dropdown menu.
And don't forget that you can search, donate, and create community forms using your ActBlue Express account on mobile devices!
Donating to a group you gave to in the past
It is easy to donate to your favorite groups once you are logged in to your ActBlue Express account! You can access your account by clicking "Sign in" on ActBlue's homepage, secure.actblue.com.
When you log in, you will see the "History" page, which lists all of your past contributions chronologically, as well as your active recurring contributions! Click "Donate again" next to the group you would like to give to again.
You'll see a pop-up where you can give either a one-time or monthly contribution directly to the group.
Once you click "Donate," you'll see a confirmation in the pop-up.
The contribution will now show up at the top of your History page.