Download Contribution Data
ActBlue user roles and permissions dictate what users can do on our platform. If the tools or features in this article are unavailable to you, speak to your entity Admin first about updating your permissions.
In this article:
---
"Downloads" tab
You can quickly create downloadable reports of your contribution data in the "Downloads" tab of the Dashboard menu (under "Tools"). The reports here can help you with email list targeting, reaching out to particular donors, or executing other parts of your digital fundraising strategy!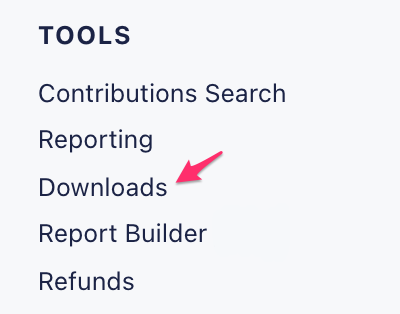 CSVs are a popular and universal document format that should work with all types of donor tracking software. In this tab, you can download CSVs with contribution data over a specific time frame, including your all-time contribution list. You can also export CSVs of your canceled recurring contributions, recurring contributions that have completed their last scheduled recurrence, refunded contributions, and first-time donor information.
To download a report as a CSV, just click "Export" and then "CSV."
All of your recently requested reports will appear at the bottom of this page and automatically be downloaded to your computer once it is processed. And if a large CSV takes significant time to load, we can send the report to your email!
You can also export any report on this page as a Google Sheet once you set up a Google Sheets integration! Just click "Export" and then "Google Sheets."
If you haven't set up a Google Sheets integration in the "Integrations" tab of your Dashboard yet, you'll be directed to a page asking you to sign into your Google account. If you have multiple Google accounts, we recommend choosing the one you use for work! Please note: Anyone who has access to that Google account will also have access to the reports you export to your Google Drive.
Once you choose the Google account you would like to connect to ActBlue, you'll see the permissions page. ActBlue will see, edit, create, and delete only the specific Google Drive files you export from ActBlue. ActBlue will not share these Google Drive files with any other user, and we will not access any other data from your Google account. Click "Allow" to continue setting up your integration.
Then, you'll be redirected to the Downloads page and your report will appear under "Recent reports," at the bottom of the page. Once your report is done generating (this could take anywhere from a few seconds to several minutes, depending on the size of the report), click "View in Google Sheets."
You'll be brought directly to your new Google Sheet, which will be saved in your Google Drive. You can edit your data, change the title, and share with others directly in Google Sheets. Please note: these changes will not be reflected on ActBlue.
Please note: In any CSVs you download, you will be able to see where a donor gave. If they gave on a form, you will be able to see the name of the form in the "Fundraiser Recipient ID" column. If the donor gave through their donor dashboard in their ActBlue Express account, you will see "ActBlue Express Donor Dashboard Contribution" in the same column.
---
"Report Builder" Tab
If you don't need all of the information contained in the CSVs available in the "Downloads" tab, make a custom CSV in your Dashboard's "Report Builder" tab!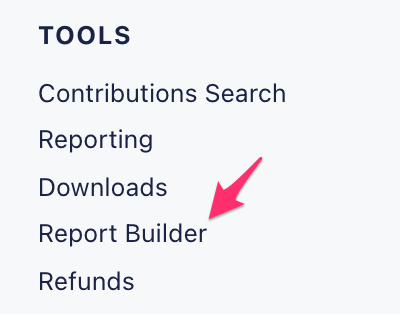 The report builder allows you to build and download fully customizable CSVs, with adjustable date ranges and only the columns you want to include! The tool also gives you the option to save templates for reports you want to download regularly. For step-by-step instructions on using the report builder, click here.
---
Additionally, ActBlue's CSV API lets users automate their processes and download donor data via CSVs without having to log in to the entity Dashboard every time. To access the CSV API for the first time, navigate to the "Admin" section of your Dashboard toolbar and select the API Credentials tab. To get step-by-step instructions for using the CSV API, you can view our technical documentation here.
---
The amount of support that the ActBlue Customer Service Team can provide is dependent on the permissions that you have. Check with your entity Admin about your assigned role. 
If you have any questions, please contact our support team using the email address you use to access your ActBlue account.