Recurring Tools
ActBlue user roles and permissions dictate what users can do on our platform. If the tools or features in this article are unavailable to you, speak to your entity Admin first about updating your permissions.
In this article:
We strongly recommend that you start a recurring fundraising program! Our recurring tools make it easy. There are multiple different pop-ups you can use to ask for recurring donations, as well as a static recurring pitch and a free gift option for recurring donors that you can add to your contribution form.
Edit Recurring Settings
To edit your recurring settings, head to the "Recurring settings" tab of your form editor.
Recurring Upsells
You can find the different options for recurring upsells in the "Recurring donations" dropdown menu.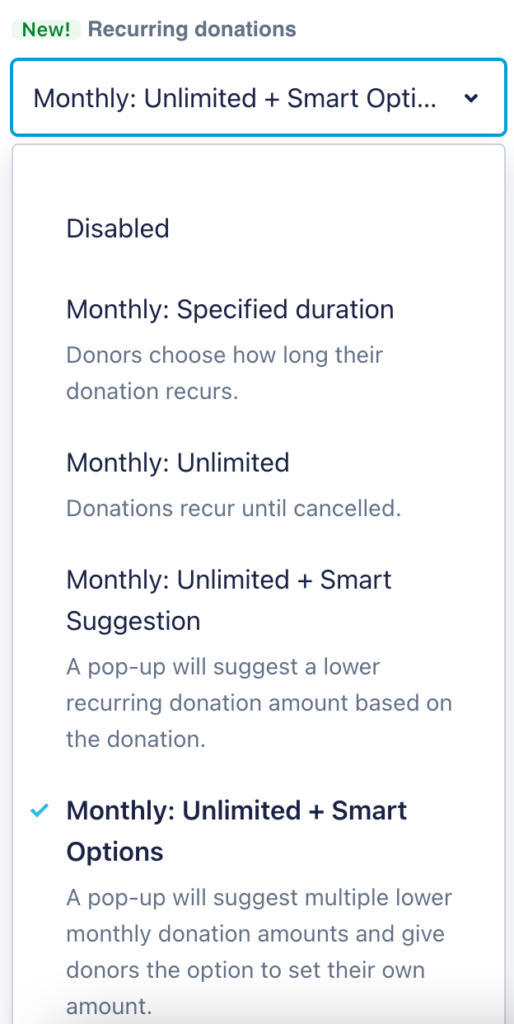 The "Specified duration" pop-up will prompt one-time donors to give a monthly donation that's the same amount as the contribution they just gave, and it will also give donors the chance to set the number of months they would like their donation to recur.
"Unlimited" is an upsell that will prompt donors who just gave a one-time contribution to also give a monthly donation of the same amount. This monthly contribution will occur for an unlimited duration until the donor cancels it.
Both of these pop-up options will look similar to this: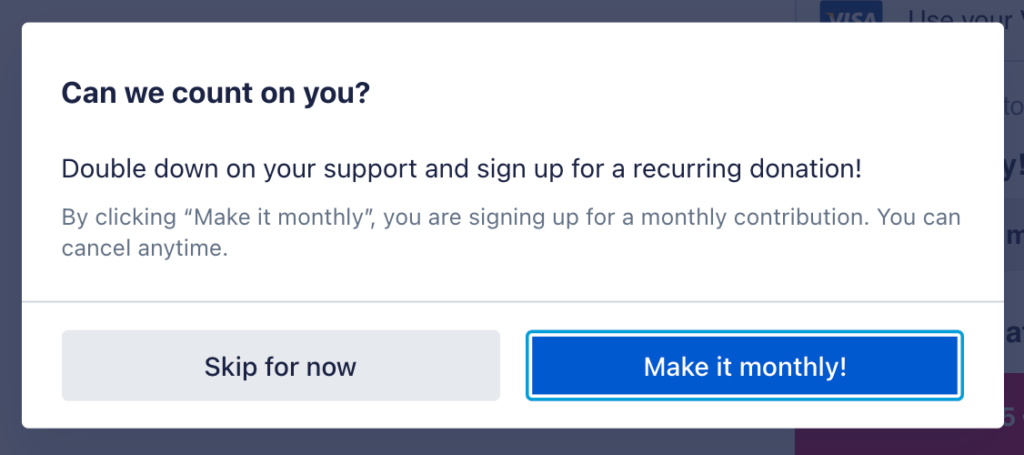 You can learn more about how to customize these two types of recurring upsells here!
Smart Recurring
We also have two Smart Recurring upsells that base the recurring ask amount on the donor's one-time donation amount. The "Unlimited + Smart Suggestion" option will present one-time donors with a pop-up that prompts them to commit to a smaller monthly contribution compared to the donation they just gave.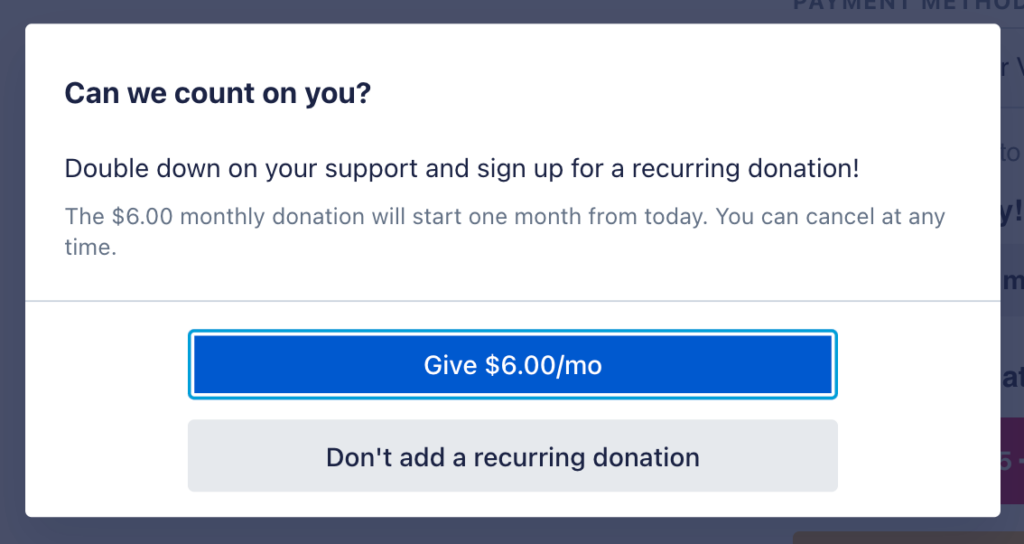 Finally, "Unlimited + Smart Options," the default upsell, will present one-time donors with a pop-up that suggests multiple lower monthly donation amounts and gives donors the option to set their own amount.
You can learn more about Smart Recurring and how to customize these types of upsells here.
Regardless of the recurring pop-up you use, your one-time donations will always process first, and you won't lose your one-time donation if a donor chooses to opt out of a monthly contribution! You can also customize the title and ask message for any type of recurring pop-up. Please note: If you enable Smart Boost in the "Post-donation upsells" tab of the form editor, the recurring pop-up will be disabled, even if you have one of our recurring pop-up tools selected in the "Recurring settings" tab.
Recurring pitch
In addition to our pop-up recurring tools, we give you the ability to write a custom, static recurring pitch to highlight the recurring option on your contribution forms! You can learn more about this tool here.
Recurring Incentive: Add a gift for monthly donors!
We also give you the option to offer a free gift to supporters who sign up for a recurring donation on your form or via the recurring pop-up, as an added incentive to support you for the long term!
This is what a recurring incentive looks like on a form: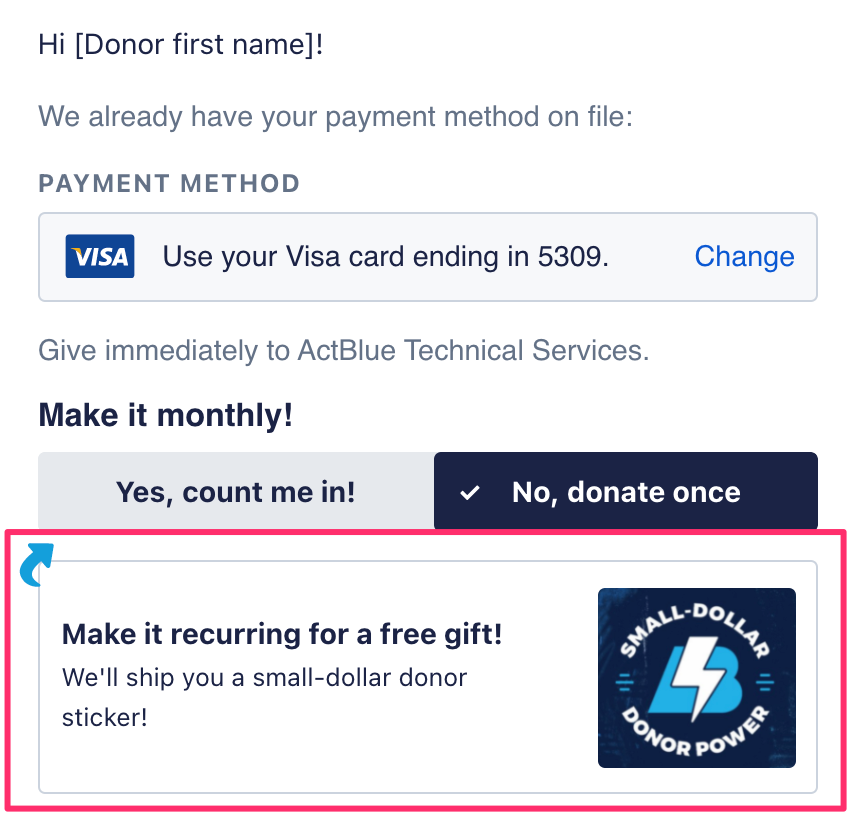 And this is what a recurring incentive looks like in a pop-up: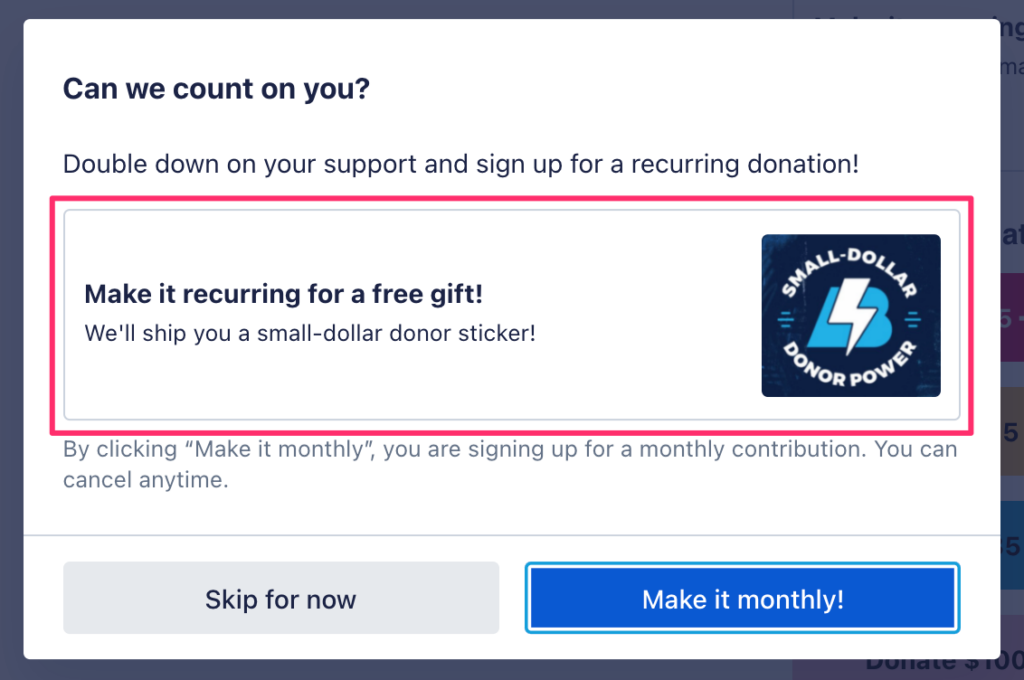 You can learn more about the recurring incentive tool here!
Accessing recurring data
Your campaign or organization can see who made a recurring contribution in the detailed contribution list and report for each contribution form. You can find these tools by clicking the "Stats" button in the navigation bar (form navbar) when previewing your form.
On your form's Statistics page, click the "View all contributions" button to find the list of detailed contributions or download a report of all contributions.
You can also see who made a recurring donation by searching for a specific contribution in the Contributions Search tab in your Dashboard toolbar.
You'll see a note that the contribution will recur each month, along with the one-time contribution amount.
Interested in learning more about how to use these tools to start a recurring program or grow your existing one? Read our guide here.
---
The amount of support that the ActBlue Customer Service Team can provide is dependent on the permissions that you have. Check with your entity Admin about your assigned role.
If you have any questions, please contact our support team using the email address you use to access your ActBlue account.
---
Additional Reading