Download Recurring Data
After you spend the time building a strong recurring program to sustain your work, you can access all of your important recurring data as downloadable CSV files. It only takes a single click to download a CSV file of your active recurring contributions, your recurring projections, or your canceled recurring contributions!
First head to the Recurring tab of your Dashboard toolbar.
At the top, you'll find three buttons for downloading a CSV file of your active recurring contributions, your recurring projections, or your cancelled recurring contributions. The "Active recurring contributions" CSV includes all recurring contributions from the last 30 days that are paid and are scheduled to recur again. The "Monthly recurring projections" CSV is a simple recurring projection for the next month that looks at all of the paid monthly contributions made in the last month and then projects the contributions will recur again, assuming nobody cancels their recurring contribution or requests a refund of their last gift. The "Cancelled recurring" CSV includes all recurring contributions that have been cancelled in the last 60 days. Hover over the information icons next to each button to find out more about the data.
Click on the button to begin downloading a CSV file. If you expect the file to be large, you can choose to receive an email notification when your report is ready for download. To do so, click on the button to start downloading the CSV and then click the "Email me when finished" button.
Your recently requested CSVs will be available to download for 24 hours in your Dashboard's Downloads tab.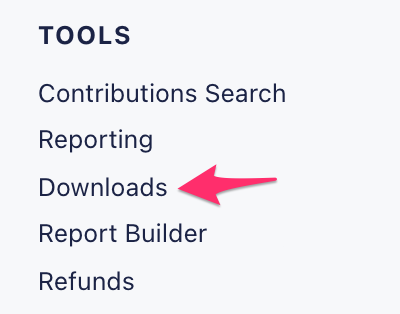 You can also download data about your recurring program in the "Report Builder" tab in your Dashboard.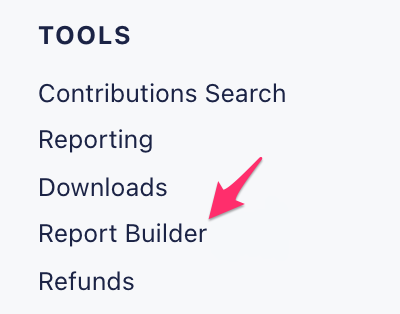 The report builder tool allows you to build and download fully customizable CSVs, with adjustable date ranges and only the columns you want to include! Try searching for "recurring" to see what columns, such as "Bump Your Recurring," you can select to analyze and grow your recurring program.

The tool also gives you the option to save templates for reports you want to download regularly, so you can check up on your recurring program on a weekly, monthly, or quarterly basis. For more information on how to use the report builder, click here. Plus, you can export any report, including recurring data, from the "Report Builder" or "Downloads" tabs as a Google Sheet once you set up a Google Sheets™ integration.
---
Google Sheets is a trademark of Google LLC.
---
Additional Reading